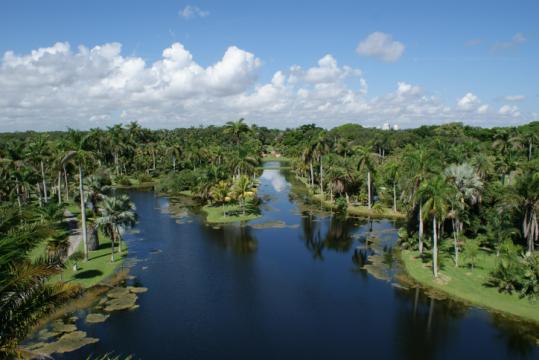 The Fairchild Tropical Botanic Garden in Miami is an example of a happy and healthy lawn, with dozens of beautiful flowers, gigantic trees, and almost every plant found in the world. So take a visit to these exotic gardens and discover new types of plants.
The Tropical Flowering Tree Arboretum has almost all types of tree existing in the world, get lost in this amazing paradise and smell the fresh air provided by the trees.
The Orchid tree is found in the Tropical Plant Conservatory, donated by the American Orchid Society, an artificial covered with cork and inhabited by flowering orchids, tillandsia, ferns, moss and other airplants. Also it includes gingers, calathias, kava kava, breadfruit, Seychelles, stilt palms, costas, begonias and vireya rhododendrons.
Created in 2000, the Richard H. Simons Rainforest is a small example of a tropical rainforest, which includes an incredible amount of plants. The rainforest offers four different levels to explore, one above the canopy with the fastest growing and tallest trees. The emergent level where you can find 50 percent of all plant species in the world; it is the understory with less plant life because only five percent of forest sunlight penetrates there. The forest and final floor contains the nutrients of decaying plants and animals.
In Power X we guarantee a happy and healthy lawn, as the leading specialist in South Florida Lawn Care and South Florida Exterminators. For more information call us at 1-866-954-6841 or click here.