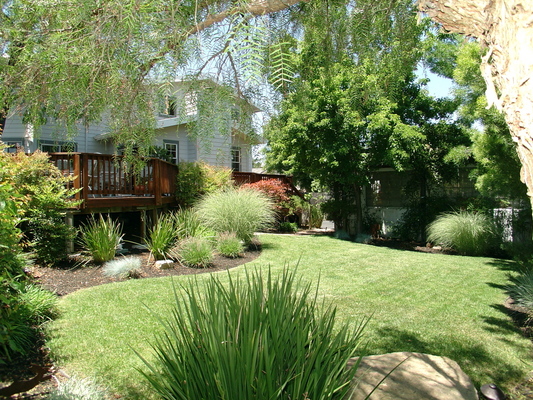 South Florida offers the ideal climate for maintaining beautiful gardens and verdant lawns. But there are plenty of challenges too, with plenty of pests and diseases thriving in this tropical environment as well. With years of experience in helping homes, yards, and communities across the region look better, PowerX knows how to keep your lawn and house safe from the common pest, disease, and weather issues that every homeowner must face.
Below are a few common issues that we have found most property owners to face.
Lawn Issue No. 1: A small, dead spot on your lawn that is surrounded by rich, dark green grass. This is usually indication that a dog may have made a pit stop or two on your lawn, and unfortunately while the go to solution is to keep the dogs from off your lawn, it can be a hard thing to do as it's not very easy to control other people; however, PowerX has what it takes to restore these dead spots to their former greenery.
Lawn Issue No. 2: Dead spots appearing and expanding on your lawn. These  can be caused by a number of disease-causing fungi. A variety of lawn diseases can be eradicated by simply adjusting the amount of water and fertilizer that you use or even adjusting the times that you water and/or apply fertilizer. No matter what solution you choose, it's always a good idea to get a second diagnosis from a lawn care professional like PowerX before deciding on a lawn treatment plan.
Lawn Issue No. 3: Brown areas or dry spots. The bane of every gardener, these issues occur because of soil that has been flattened down by excessive foot traffic, or because of improperly adjusted, clogged, or broken sprinklers.  The best way to fix this issue is to create a designated trail for your visitors to use and/or to fix your sprinklers. Only a dedicated and careful assessment by specialists like PowerX can determine if this is the cause, however.
Lawn Issue No. 4:  A shady garden is the best friend to moss, but to grass it can be a mortal enemy.  While excessively shady areas are a great place for moss to grow, it can be a horrible place for grass to thrive.  The best way to keep your grass areas from thinning is to check the pH level of the soil.  If the pH level turns out to be ok, then pruning your trees in the surrounding area could be the only solution that you need, however, if the pH level isn't ok then you might want to try reducing the amount of water that that particular area receives, or switch to a type of grass that can thrive better in the shade, like palmetto sod. You can even remove the grass from that area completely and replace it with ground covering that is more shade tolerant, like a pachysandra or a vinca.
These are just a few of the issues that homeowners face in trying to keep their lawn in pristine condition. When it comes to these and other challenges in  South Florida Lawn Care, PowerX has the experience, expertise, and treatments needed to make your property thriving and beautiful. As our extensive  South Florida Pest Library shows, we have ample knowledge and qualifications for tackling just about anything nature throws at your yard. Start with a free assessment and estimate by calling +1-866-954-6841.