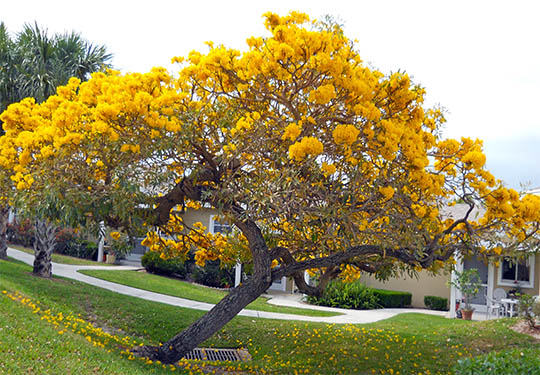 While much of the nation is still dealing with an extended winter, South Florida is enjoying the color and beauty that comes regularly with our warm and sunny springs. Now is the time to look around and appreciate the beautiful landscapes that surround you, especially the color and splendor of trees like the Yellow Tabebuia.
This gorgeous native tree is highly recommended for its ornamental value, which no doubt speaks for itself. It grows between 20 and 30 feet and makes a great addition to medium-sized yards and lots. Common uses include shade, an accent for a large garden, lining property borders (especially for large properties), and creating overhead arches.
As a deciduous plant, the Yellow Tabebuia loses leaves in the winter, albeit often later in South Florida, since it tends to be warmer here for longer. But just because they are dormant in the winter doesn't mean they shouldn't be cared for.
Consider the beautiful specimen pictured here. As you can see, it looks amazing and offers a lot of aesthetic beauty and value to the yard. PowerX carefully fed it a rich blend of fertilizer that prepared it for the spring bloom, making it even healthier and brighter than before.
Indeed, it is important to fertilize this species at least three times a year with quality granular fertilizer. Though fairly tolerant to drought once established, Yellow Tabebuia do best when irrigated regularly, with time between watering for the soil to dry out a bit. Also note that Florida's soil conditions mean you need to give the tree time for its root to take hold deep enough to withstand strong hurricane winds.
As leading providers of South Florida Lawn Care, PowerX can help you care for, protect, or maintain your lawn to its optimum potential. If you want the best results in Lawn Care South Florida, as with this specimen, contact us for a free assessment at 866-954-6841.